A Powerful Commemorative
September 11, 2001
9/11 keepsake ornament in polished pewter
A poignant and powerful remembrance
St. Paul's Chapel of Trinity Parish;
the Twin Towers of the World Trade Center;
and, The Shoes of a Fireman
A most stunning example of Georgian Classic Revival, where George Washington had worshiped as president, miraculously survived the events of September 11, completely intact... not a single pane of glass damaged. And, this good and godly fortune was soon savored by all as St. Paul's sprang into action as the center of relief to all those in torment and need at ground zero.
A moment in time
A survival from the holocaust and ashes of September 11
A time and place to be remembered: 9/11 - 2001
New York, New York
A Memorial
The shoes of a fireman were testimony to the many who left street clothes on Trinity's fence, that fateful September 11, where they made a last change on their heroic rush to the World Trade Center... many, never to return.
Desiderata
Written by Max Ehrmann in the 1920s... a poet and lawyer from Terre Haute, Indiana. He wrote in his diary of an urge to write Desiderata... Latin for "things to be desired". "I should like, if I could, to leave a humble gift... a bit of chaste prose that had caught up some noble moods." And, so he did.
"Therefore be at peace with God,
whatever you conceive Him to be.
And, whatever your labors and aspirations,
in the noisy confusion of life,
keep peace with your soul."
New York, New York...
Hear our Prayer
To Purchase click below:
September 11
Commemorative Keepsake
@ $20.00
* * Shipping will be added at checkout. * *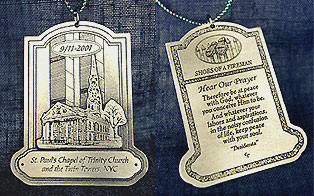 Commemorative Ornament in polished pewter
Artwork from reverse of ornament
"Shoes of a Fireman"
This very special commemorative piece was created by Tom Selby of Canterbury Pewter for the loving friends and ever continuing, daily stream of visitors to St. Paul's Chapel and Trinity Church at The World Trade Center site. They are exclusively available in the gift shops there as well as here, on-line.
In this time of chaotic thoughts and stretched faith, may this keepsake ornament represent a source of peace... a reminder of God's peace in our lives. Hear our prayer!
To place your order, click on the priced hyperlink above.
To visit Canterbury Pewter click on the banners.
It is our sincere hope that you, like so many others, are happy to hear from us from time to time. Should this not be the case, please don't hesitate to let us know by replying to this email with "remove" in the subject and we will remove you from further mailings.