Noah's Ark Cross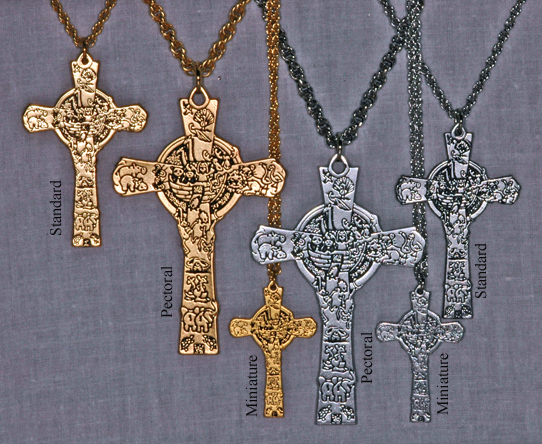 | SKU # | Name | Summary | Price | |
| --- | --- | --- | --- | --- |
| 13011 | Pectoral Necklace with Chain (Pewter) | 3-1/2" High, on 30" matching braided rope neck chain. | $35.00 | |
| 13012 | Pectoral Necklace with Chain (Gold) | 3-1/2" High, on 30" matching braided rope neck chain. | $45.00 | |
| 13021 | Standard Necklace with Chain (Pewter) | 2-1/2" High, on 24" matching braided rope neck chain. | $24.00 | |
| 13021 | Standard Necklace with Chain (Gold) | 2-1/2" High, on 24" matching braided rope neck chain. | $36.00 | |
| 13031 | Miniature Necklace with Chain (Pewter) | 1-1/2" High, on 18" matching braided rope neck chain. | $20.00 | |
| 13032 | Miniature Necklace with Chain (Gold) | 1-1/2" High, on 18" matching braided rope neck chain. | $30.00 | |
| 13051 | Post Earrings (Pewter) | 3/4" High on Posts. | $15.00 | |
| 13052 | Post Earrings (Gold) | 3/4" High on Posts. | $25.00 | |
Only twice in the history of the world has God interceded to save mankind ... once with Noah and the flood and once in permitting the sacrificing of His Son on a cross that we might be saved. This detailed Celtic Noah's Ark Cross brings these two events together.
In addition to Noah with his arms raised on his ark and some sixteen pairs of critters all clambering to get on board, it depicts the first rain clouds, first rain drop, first rainbow, and that little square at the bottom... the four corners of the earth that all the animals came from.
The perfect gift for confirmation or for baptism... delightful conversation piece that will appeal to all ages. Offered now in three necklace sizes and two finishes... the polished pewter or the gold plate.